Western Mass. Volleyball: Mount Greylock dispatches Mount Everett; Lenox advances on road | Local Sports
WILLIAMSTOWN – Runner-up Mount Greylock volleyball started its postseason Tuesday night with a home game against Berkshire County's enemy Mount Everett.
The Mounties did a quick job with the No. 7 Eagles, winning 25-11, 25-5, 25-9 in three sets.
Freshman Celina Savage led the offense with 11 kills and four aces, adding a block to her impressive tournament debut in Western Massachusetts. Senior Takiera Darrow added seven kills and had a strong all-round outing with eight digs and four aces. Charlotte Coody contributed six kills and three aces, while Talia Kapiloff landed another five aces.
Greylock is due to host the No. 3 Turners Falls in Williamstown on Thursday after the Thunder swept the No. 6 Mohawk on Tuesday.
Southwick 3, Taconic 1
SOUTHWICK – The Green and Gold gave Southwick a fight for their money but stayed against the No. 3 seeded in the Western Mass. Class C tournament back.
Taconic, who entered the tournament as No. 6, won the second set against Southwick. Brenna McNeice had 15 digs and 14 assists.
Natalia Dos Santos had 13 digs and five aces when THS won the second set after falling 25-11 in the first.
Nevaeh Williams and Ciana Bennett each had seven hits for the guests, but Southwick did just enough to score a 25-21 win in the fourth set that sealed the game.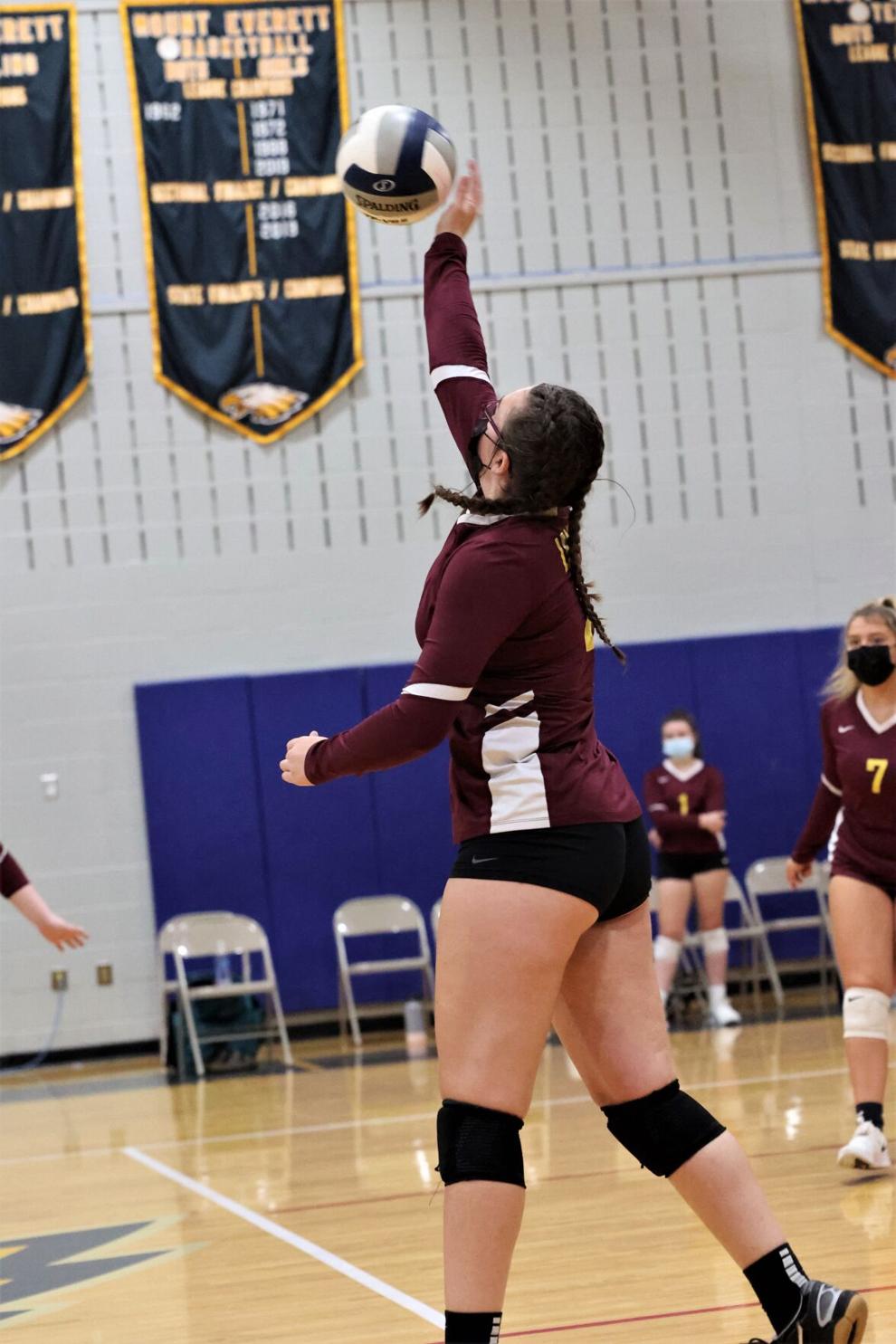 Hailey Ano and Lenox survived a quarter-finals on the street in Ware and agreed another date with local rival Lee on Thursday.

EAGLE FILE PHOTO

Lenox 3, goods 2
WARE – The millionaires not only had to go to the first round of the Western Mass. Class D tournament took to the streets, but also stared at a 2: 1 hole after three sets in 4th place.
Fifth seeded Lenox fought their way back to tie the game 2-2 before winning the fifth set to eliminate the host Indians in a quarterfinal match on Tuesday.
The millionaires will begin a rematch against rival Lee from Berkshire County in the semi-finals on Thursday. Lee defeated Lenox 3-0 on Saturday.
No further information was available at the time of going to press.
Chicopee 3, Wahconah 0
CHICOPEE – The fourth seeded Pacers turned out to be in the quarterfinals of the Western Mass. Class B on Tuesday as too much for Wahconah on the road.
The No. 5 Warriors fell 25-17, 25-20 and 25-14.
Chicopee advances to distant Monument Mountain in a semi-final game in Great Barrington on Thursday.
No further information was available at the time of going to press.