After more than two years of waiting, Loki is finally here. There is so much to unpack from the first episode, especially the historical niche reference to the infamous hijacker DB Cooper.
In the middle of the first episode, Owen Wilson's Mobius M. Mobius led Loki (played by Tom Hiddleston) through an epic vision quest.
At one point, Mobius stopped at one of his favorite moments in Loki's existence – especially when Loki once hijacked a plane and parachuted out of the stern before returning to Asgard.
The scene reflected the extraordinary true case of DB Cooper, and even ended with Wilson's TVA agent actually declaring Loki to be the real DB Cooper.
He said, "You were DB Cooper! I was young and I lost a bet to Thor. Where was the TVA when I got involved in this man's business?"
Who is DB Cooper?
In "Loki" Episode 1, Tom Hiddleston's character hijacks an airplane.
Disney +
To date, DB Cooper remains one of the FBI's most famous unsolved mystery cases and remains the only unsolved air piracy in commercial aviation history.
On November 24, 1971, a man named Dan Cooper (later called DB Cooper by the US media) bought a one-way ticket to Seattle, Washington from Northwest Orient Airlines in Portland, Oregon.
When the Boeing 727 flight was in the air, Cooper handed stewardess Florence Schaffner a slip of paper and told her he had a bomb in his briefcase.
After looking at a makeshift bomb, Schaffner was instructed to make a note to the captain of the flight, William A. Scott.
The neatly typed note called for four parachutes and a $ 200,000 ransom in twenty-dollar bills.
Scott was able to land the flight in Seattle, where the 35 passengers and part of the crew could disembark from the plane. Cooper and four crew members, including the captain, remained on board.
Cooper ordered the pilot towards Mexico City and a few hours later Cooper deployed his parachutes.
He managed to jump out of the back of the plane with the parachutes and $ 200,000 in hand, somewhere between Seattle and Reno. Around 10:15 p.m., the plane landed at Reno Airport without Cooper.
More than 45 years later, it remains unknown whether Cooper landed safely, and his whereabouts today is a complete mystery.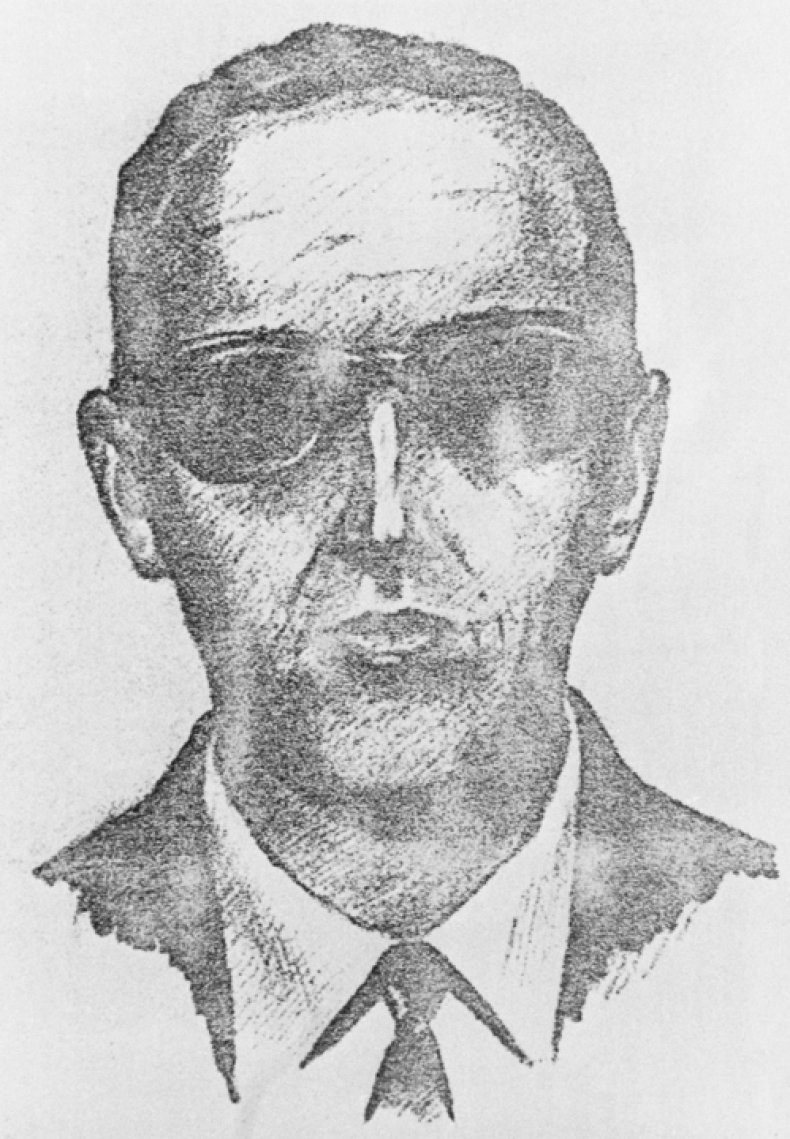 A police sketch by DB Cooper
Getty Images
The idea that Cooper might have died after his jump became very plausible when eight-year-old Brian Ingram came across a package of twenty dollar bills on February 10, 1980 in the beach town of Tina near Vancouver, Washington with the matched serial numbers of ransom.
The FBI later confirmed that the money was part of the ransom and was arranged in the order Cooper requested. However, Cooper's remains were never discovered nearby.
The FBI opened an investigation called NORJACK and had interviewed more than 800 suspects by 1976
The FBI looked into a suspect, Richard Floyd McCoy, who was arrested for a similar kidnapping five months after Cooper's kidnapping but was later released as a perpetrator for inconsistent with the eyewitness physical descriptions.
Other suspects included Kenneth Peter Christiansen, Jack Coffelt, Lynn Doyle Cooper, Barbara Dayton, William Gossett, Robert Lepsy, John List, Ted Mayfield, Sheridan Peterson, Robert Rackstraw, Walter R. Reca, William J. Smith, and Duane Weber, but they were eventually excluded.
Despite extensive attempts to find Cooper, the FBI's case was closed in 2016 and his whereabouts remain unknown.
Loki airs every Wednesday on Disney +.