John Candy, as Tom Tuttle from Tacoma, belts out the 1985 WSU battle song in Volunteers. (Photo: Volunteer screenshot)
IN THE DECREASING MOMENTS of the Toronto Argonauts CFL division championship race in Winnipeg in 1991, Argos assistant coach Mike Levenseller reached out to team co-owner John Candy, who was sitting a few yards away, and uttered an extended word. The word was "fight".
Without skipping a bar, the stout actor began bellowing the Washington state battle song. "He sang the whole thing. It was perfect. He remembered every word," remembers Levenseller, the former WSU star recipient who later spent 20 years as a WSU assistant coach. "I'm not a great singer, but I went along and we sang it as loud as possible in unison."
The two had met nine months earlier when Candy, a native of Toronto, teamed up with hockey star Wayne Gretzky and racehorse mogul Bruce McNall to buy the Argonauts. "They had a big meeting to introduce the staff to the new owners and John came and shook his hand," Levenseller recently told Cougfan.com.
"I'm Tom Tuttle," Levenseller quipped when their hands met. Candy, no matter how cut, never missed a beat. "John jumps back in a comedic way, and when I come full circle by telling him I'm from Tacoma and a Washington State Cougar, he says, 'wow!' and widen your eyes. "
The two hit it off immediately and chatted regularly over a shot or two of Wild Turkey for the months that followed. "He was just a great guy, a special guy," said Levenseller. "My mother cried when he died.
"We actually had to ban him from the sidelines once because he ran into the field, hit injured boys and picked them up like a baby," said Levenseller. "He really took care of it … He traveled with us to street games, gave us movie tickets … just a really good man, a normal guy who made it big."
Thirty-six years ago Today Candy introduced the nation to the fictional Washington State alum Tom Tuttle from Tacoma. And soon "Fight, fight, fight for Washington State" was not just an anthem for WSU fans, but a symbol for the world of goodwill and loyalty. The comedy Volunteers, about the antics of Peace Corps soldiers in the 1960s, debuted in theaters on August 16, 1985. Candy played with Tom Hanks and Rita Wilson.
Despite mediocre reviews, the film grossed $ 5.1 million on the opening weekend, making it the No. 2 film in America. Candy's career was in full swing when Volunteers debuted and he would add a lot to his résumé before having a heart attack in 1994 at the age of 43. Definitely in the hearts of the Cougar fans, who have been spoiled with clips practically every match day since the WSU set up a video board in the Martin Stadium.
Related: The Complete Story of Cougs in Hollywood
"I think Tom Tuttle's stamina is John's portrayal," says Levenseller. "He made it unforgettable. There are so many other actors who could fit into this role and they wouldn't have made it sparkle like that. John is why it's memorable. And for Cougar fans, it's a sense of pride, plain and simple. "
How Tom Tuttle came to be from Tacoma is almost as ridiculous as the character himself. Ken Levine (yes, the same Ken Levine who was on the Seattle Mariners radio team from 1992-1994) co-wrote Volunteers and in a 2012 blog reply one Guy named Tom Tuttle (and actually from Tacoma) explains how Candy's character got his name and his hometown.
"We honestly picked the name out of thin air. We wanted the character to be really enthusiastic and, as a contrast, to come from as much of the east coast as possible," Levine wrote. "At first we thought of WSU as the college. We wanted the school to be known (they're on Pac 10) but still a little bit funky. We looked at a few fight songs that WSU liked the most and decided to go with them.
"Then we figured the character should be from Washington State. Tacoma was kind of a weird-sounding name and again a city that was recognizable. We always imagined the character was a little wired and when she introduced herself , said her name. " and where he comes from. So alliteration was used to roll the name off his tongue. Somehow we came across Tom Tuttle from Tacoma. We just liked the rhythm. If we'd gone with Spokane, it might have been Stan Stodell from Spokane. "

With due respect for Lilac City, Levine made the right call to Tom Tuttle from Tacoma. Tuttles place in Lore picked up speed from the start. The 1986 WSU yearbook Chinook devoted two pages to his fame. Nancy Schlarmann, a Chinook editor, wrote that students are campaigning for Candy to come to Pullman for homecoming. Tri-Star Pictures said they tried, but Candy's schedule "didn't work out". Cougar fans then shouted "We want Tuttle" at soccer games.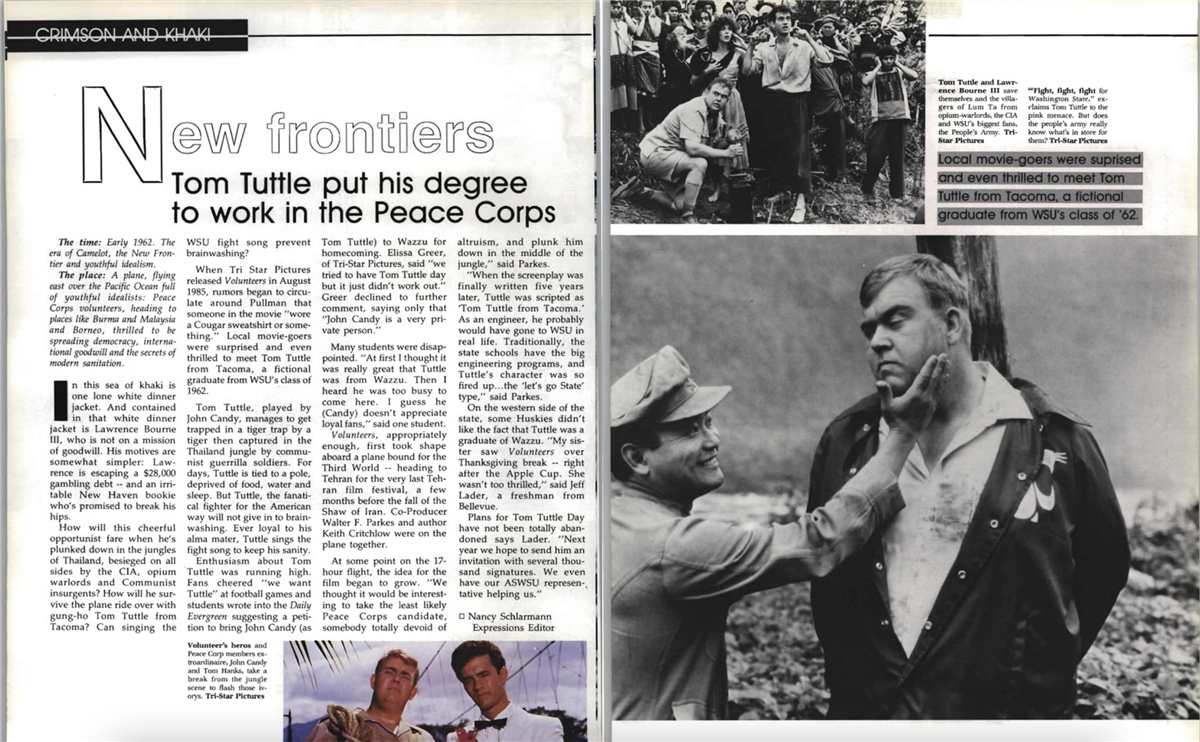 The WSU's 1986 Chinook contains a double-page spread about Tom Tuttle from Tacoma.
Jason Krump, the resident historian at WSU's sports department, is short and sweet when asked to describe Tuttle Mania. His mind wanders to the old Cordova Theater in downtown Pullman, where volunteers see the screen just in time for the start of the fall semester.
"I thought about what those who saw the film in Cordova thought when they heard about the Tom Tuttle character, the Fight Song, and Washington State mentioned in the film. And how long it was going to take The news spread. 1985 That would be personal conversations or a phone call. If there was a character in a film with a Washington State association today, he would be known before the opening of the film, be it through a tweet, Facebook post, text etc. .. "
He adds, "If Volunteers opened today, Tom Tuttle would be all over social media with people sharing content about the character. If we think about it, we see it anyway because thanks to the web and social media, especially YouTube, Tom Tuttle of Tacoma is timeless. The character and John Candy's rendition of the fight song are as closely associated with the Washington State Cougars as the logo and the flag.
From the archives: An exit interview with WSU game and trainer icon Mike Levenseller
"While the general public may not think of volunteers at the top of Candy's film resume (or Tom Hanks), it certainly tops any Washington State Cougar list."
REMARKABLE: The Washington State Fight Song was written in 1919 by Zella Melcher (lyrics) and Phyllis Sayles (music) for a class project.