6:00 AM ET
RENTON, Wash. — Early in the second quarter of the Seattle Seahawks' season-opening win Monday night, Jamal Adams shot through the line of scrimmage on an unobstructed path to Denver Broncos quarterback Russell Wilson. With Adams clinging to his legs and about to drop him for a sack, Wilson rushed a dump-off throw that was batted down for an incompletion.
This is what 2022 was supposed to look like for the former All-Pro safety — the Seahawks' new defense reigniting a finally-healthy Adams as the blitzing menace he used to be.
"I'm back in my element, man," Adams said a few days before the opener while talking about how Seattle's scheme changes would put him in position to make plays. "I feel like I'm back playing defense."
But instead of foreshadowing Adams' bounce-back season, the play likely ended it. After his near takedown of Wilson, Adams hobbled off the field and was later carted into the locker room with an injury to his left quadriceps tendon that is expected to sideline him for the rest of 2022.
It's a big loss for a Seahawks team that is relying on its defense and run game, both of which need to be at full strength to cover up their limitations at quarterback. And it's another devastating blow for Adams, who was rarely hurt early in his career but has now suffered a major injury in three straight years. After missing only two games over his first three seasons with the New York Jets, Adams — assuming he's out the rest of 2022 — will have missed 25 of a possible 50 regular-season games in three years with Seattle.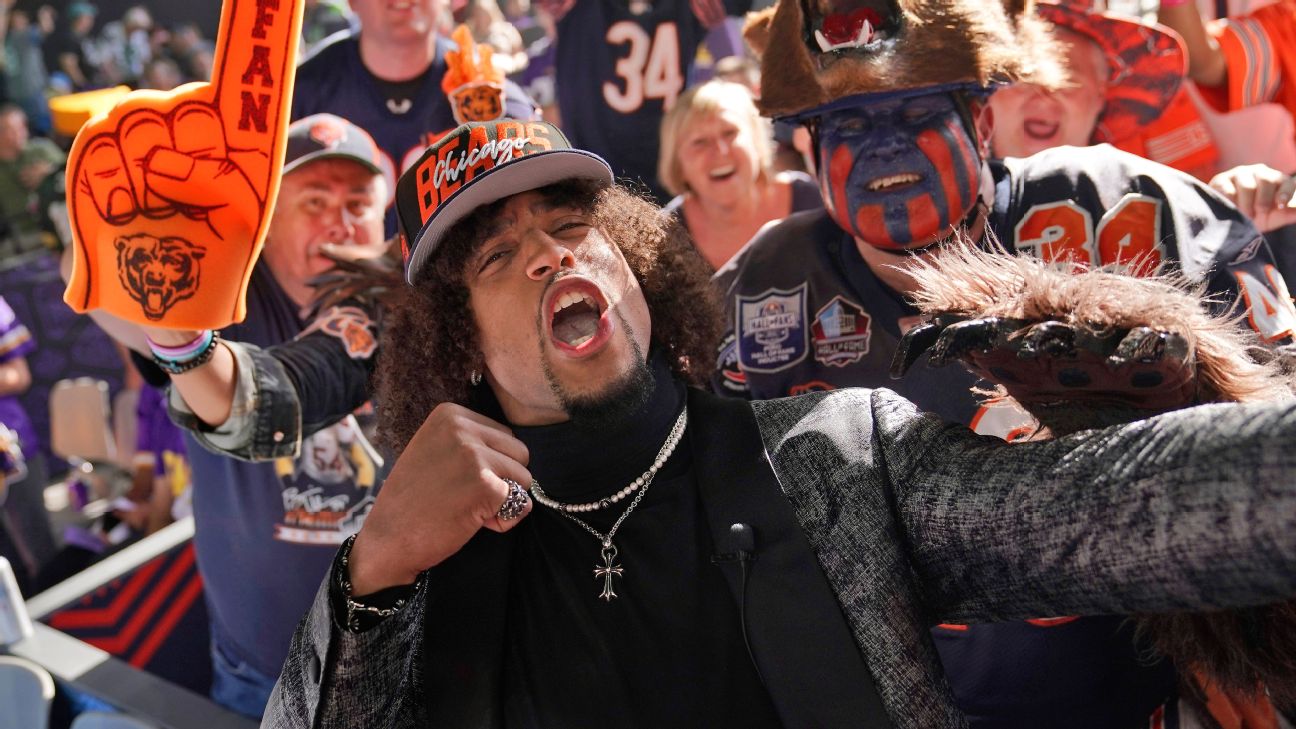 • Bears' Gordon thrives on center stage
• Adams injury a big setback for Seattle
• Ravens' Dobbins elusive about status
• Is hot seat fair to Cowboys' McCarthy?
• RB's key to unlocking Packers' young WRs
• Bond between Kupp, Falcon's assistant
• Are Colts' kicking woes just beginning?
• How Broncos plan to use RB Williams
"It means so much to him and the frustration of having to go through not being healthy has just jumped at him again," coach Pete Carroll said earlier this week. "He's questioning and wondering and all that because he wants to be out here so much, he wants to be with the guys and doing what we do in every way you could possibly want to do that. So it's really frustrating for him."
Clearly, the Seahawks have not gotten enough of a return from Adams to match the package of picks they gave up to get him (two first-rounders and then some) and the massive contract it took to keep him (a four-year, $70 million extension that made him the NFL's highest-paid safety).
But Adams looked worthy of those investments during his debut season in Seattle in 2020, when he set the NFL record for a defensive back with 9.5 sacks in 12 games (he missed four with a torn left shoulder labrum). The belief in the organization is that Adams' disappointing follow-up in 2021 — when he was held without a sack in 12 games before suffering another tear to his left labrum — which was largely the result of the extra attention offenses began paying to him . Seattle's defensive staff couldn't figure out how to put him back in advantageous blitzing situations, leading to fewer pass rush opportunities and more time spent in coverage.
Seattle's new defense was expected to solve that problem. Under first-year coordinator Clint Hurtt, the Seahawks have transitioned to more of a hybrid front with an increased emphasis on 3-4 looks. On the back end, they're using more split safety alignments that are designed to make Adams and Quandre Diggs more interchangeable than a typical strong and free safety. The idea is to make it harder for quarterbacks to determine which defenders are going where.
"He caught like 10 picks in training camp," receiver DK Metcalf said. "I know people aren't used to him doing it, but I know I've seen it. And he's very capable of catching picks. He's blitzing off the edge, blitzing in the middle playing the linebacker position. He was just all over the field in training camp and I was excited for him to do that and take that role on this season. That's kind of derailed, but I think he's going to come back."
For the third time in as many seasons in Seattle, safety Jamal Adams has been sidelined with a significant injury. Joe Nicholson/USA TODAY Sports
Adams' near sack was that desired confusion in action. Linebacker Jordyn Brooks hovered over the A gap before the snap, showing blitz, but then dropped into coverage, as did outside linebacker Darrell Taylor. Adams, who had crept up toward the line of scrimmage pre-snap, got through the B gap untouched.
"Hey got hurt [running] free on the quarterback," Carroll said. "So that'll tell you something. So he did get a shot right off the bat."
With Adams out, the Seahawks will likely turn to Josh Jones to start alongside Diggs. They also have Ryan Neal, who's back from his ankle injury, and recently added Teez Tabor for safety depth. Jones, a 2017 second-round pick, finished 2021 with the Seahawks and contemplated retirement this offseason before a call from Carroll lured him back. He was part of Seattle's three safety packages, then took over when Adams went down.
"It hurts because the guy's a great football player," Hurtt said of Adams. " … So it's a shot. We don't have a lot of guys that are like that. But like I said, we have so much confidence in Josh and Ryan and their ability. … It sucks. I hate it for Jamal. But at the same time, for these guys, they get to take advantage of their opportunity and they've shown they can do that."

Everything you need this week:
• Full schedule » | status »
• Depth charts for every team »
• Transactions » | injuries »
• Football Power Index rankings »
More NFL coverage »
The Seahawks are losing more than their best blitzer in Adams. They're also losing an emotional leader. That was another reason they were drawn to him in 2020, believing they needed to reinject some fire into their locker room. They had been favoring players with easy-going personalities, having grown tired of the drama they had to manage from the Legion of Boom days. That shift meant fewer headaches to deal with, but it left their locker room with less of an edge.
With Adams, they've gotten some of it back.
His contract likely ties him to the Seahawks through at least the 2023 season because of the prohibitive amount of dead money they'd incur by moving on before then. So Adams should get another chance next season for his bounce-back, as long as he can shake the injury bug that has hit him hard.
"I know just going into halftime seeing him down and hurting him, really hurt us as a team because for a guy like that who has battled injuries in the past and for another injury to come back up, you've really just got to pray for him and hope that his mental is good overall," Metcalf said. "But like I told him, man, it's bigger plans for him past this season. He's going to overcome this like he's overcome everything else in the past and he's going to come out a stronger person."