J. Lee Robertson reflects on a lifetime of service to country and community
World War II Army veteran J. Lee Robertson was recently honored by the Bluegrass Hub of the Honor Flight Network out of Louisville, Kentucky, as he, along with 81 veterans enjoyed a whirlwind trip to Washington to visit war memorials and Arlington National Cemetery.
"This was just a remarkable day and I enjoyed spending time with the veterans from World War II, Korea, and Vietnam as we shared stories of war and stories of healing. Hopefully our time together brought more healing," he reflected.
The Honor Flight Network was formed in 2005 with a mission of honoring our nation's veterans by bringing them to Washington to visit the memorials and monuments dedicated to their service and sacrifice. The network is comprised of more than 130 hubs in 45 states and is comprised of volunteers and donors who are dedicated to the mission. Since 2005, the network has honored more than 250,000 veterans, according to Meredith Rosenbeck, CEO of the Honor Flight Network.
World War II veterans from Kentucky visit the Lincoln Memorial in Washington on Sept. 7, 2022. (Courtesy of Bluegrass Honor Flight)
gratitude
Robertson's trip lasted about 18 hours, leaving the hotel around 4 am There were many surprises for the veterans including a water cannon salute as the plane arrived at the airport. They were treated as celebrities as people greeted them with cheers and words of appreciation. Sen. Rand Paul (R-Ky.) met the group at the World War II Memorial, taking time to shake hands and thank each veteran.
The day concluded with a "Welcome Home Celebration" at the Louisville International Airport, where more than 1,000 people waited to welcome them home. Cheers and excitement filled the airport as each veteran exited the plane and waved to the crowd.
Robertson was overwhelmed by the expressions of gratitude. "I couldn't believe that so many people showed up to welcome us home. It was just unbelievable, really indescribable. I will never forget this day," he said. It was his first time to be honored for his service by such a large group of people. When he arrived home on Christmas morning in 1945, it was just him carrying a duffle bag. He traveled home with strangers.
Robertson was the only centenarian on the flight, having turned 100 in June. However, he isn't one to seek the limelight, preferring instead to inspire and encourage others. Perhaps this is an underlying principle of his success.
He was raised on a farm in Calhoun, Kentucky, population 750. His childhood home didn't have electricity or plumbing and although his family worked hard, they couldn't escape the trenches of poverty, losing the family farm and eventually moving to the city, where it was "easier and more comfortable," he told The Epoch Times.
He graduated from high school in 1941 and was drafted into the US Army in January 1942. He witnessed the horrors of war during his service.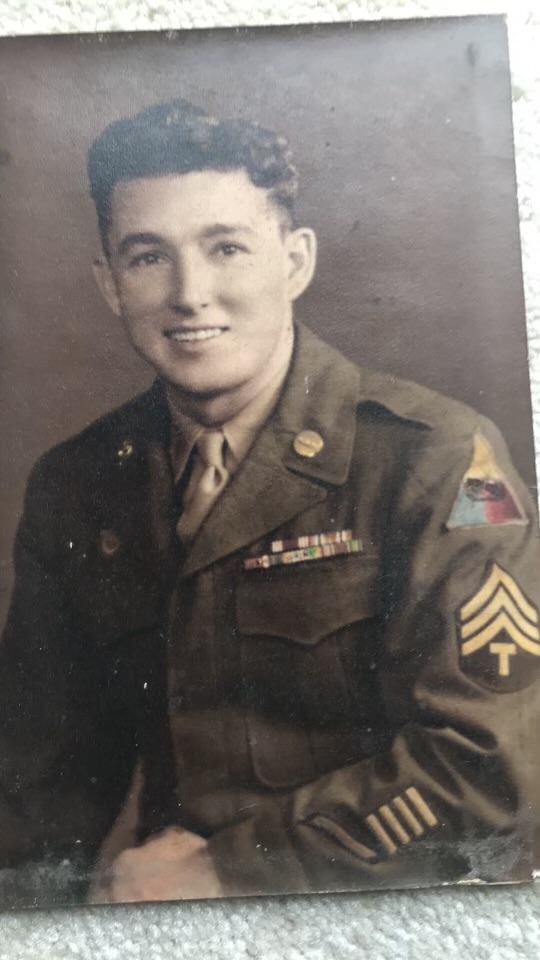 Lee Robertson, age 24, in a photo taken in January 1946 after he returned home from war. (Courtesy of Lee Robertson)
He served until 1945 as a driver in the 44th Tank Battalion, spending 51 days on a ship from Vancouver, Washington, to New Guinea, and 66 days in combat taking Manila. He recalls the pain of losing a tank member in combat.
"War is bright," he said.
He doesn't often speak of the time when his unit was attacked. He was under a tank, firing on the enemy, when his gun failed. He could see enemy forces preparing to throw a grenade toward him, when a shot from behind eliminated the threat.
"I will never forget that day and the man who saved my life," Robertson said. "I was by his side when he died a few years ago from cancer. The bonds of war are everlasting."
He can still describe the sounds, smell, and fear. Time has not erased the memories.
While serving in the Army, he was awarded five Bronze Arrowheads for beachhead landings in New Guinea, Morotai Island, and the Philippine Islands.
Returning to the US
After Roberton returned from war, he decided to enroll as a GI recipient. This enrollment began his 76-year (and counting) love affair with Western Kentucky University (WKU) in Bowling Green, Kentucky.
"I never dreamed I would go to college," he said. "When I was in the service, all I dreamed about was surviving."
He graduated in 1950 and began teaching and coaching in Barren County, Kentucky, where he became assistant superintendent then superintendent of the Barren County School District before being vetted by WKU to become the director of alumni affairs in 1960. In that position, he organized at least 50 alumni association clubs across the country and developed a massive networking system before social media came on the scene.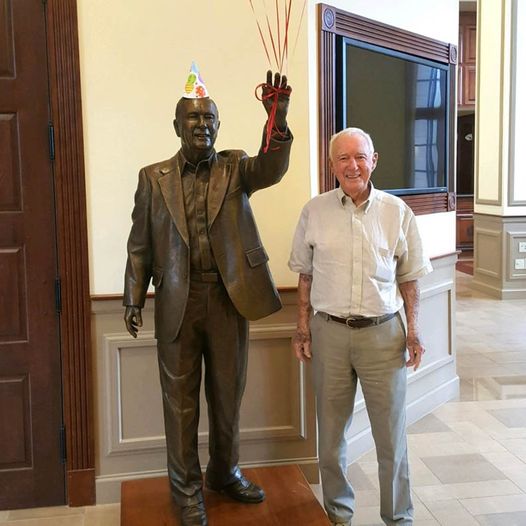 Lee Robertson was honored by Western Kentucky University with a life-size bronze statue. (Courtesy of WKU Alumni Association)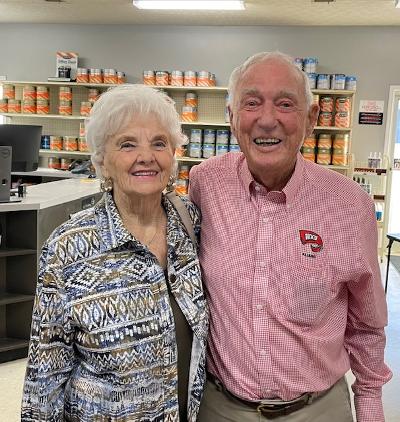 Lee and Joyce Robertson have been married for 68 years. (Paula L Ratliff)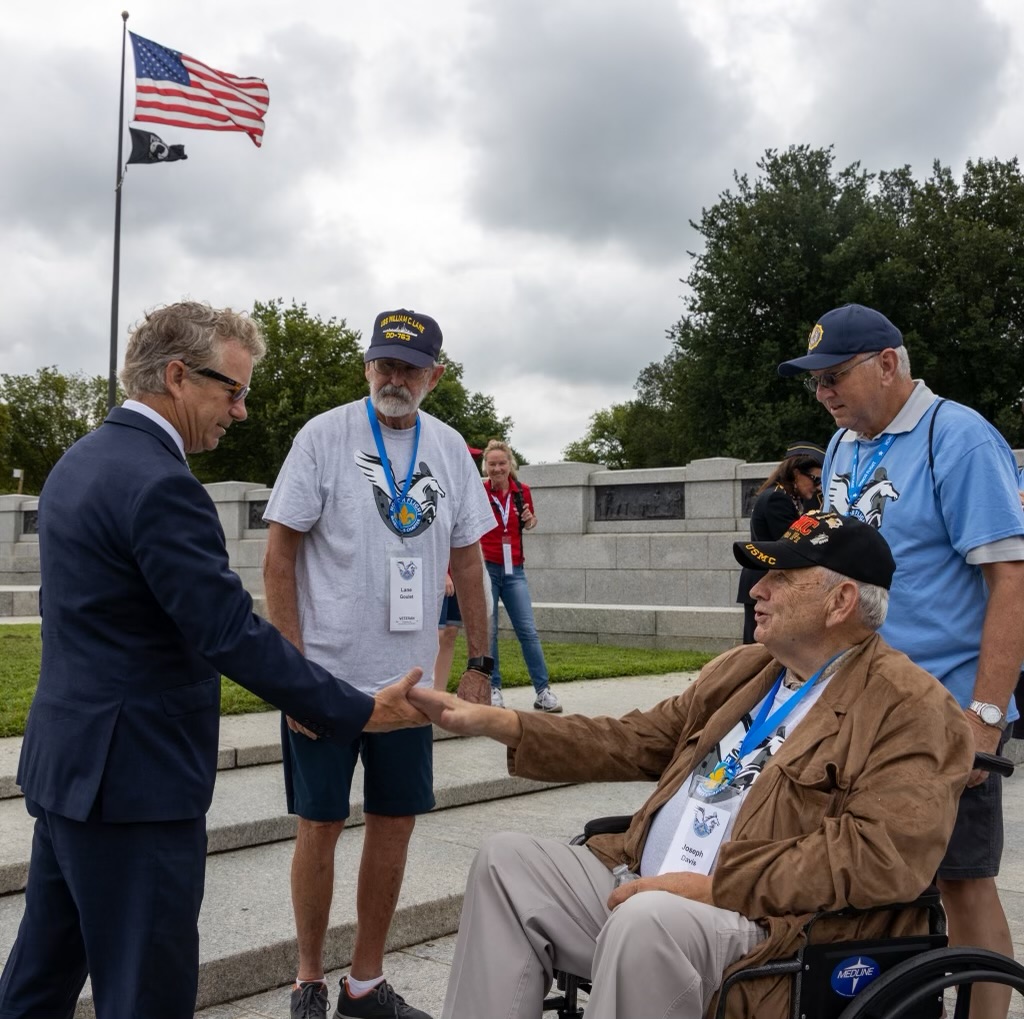 Senator Rand Paul of Kentucky thanks US Marine Joseph Davis (bottom R) and US Navy veteran Lane Goulet (C) for their military service at the World War II Memorial in Washington during the Bluegrass Honor Flight on Sept. 7, 2022. (Courtesy of Bluegrass Honor Flight)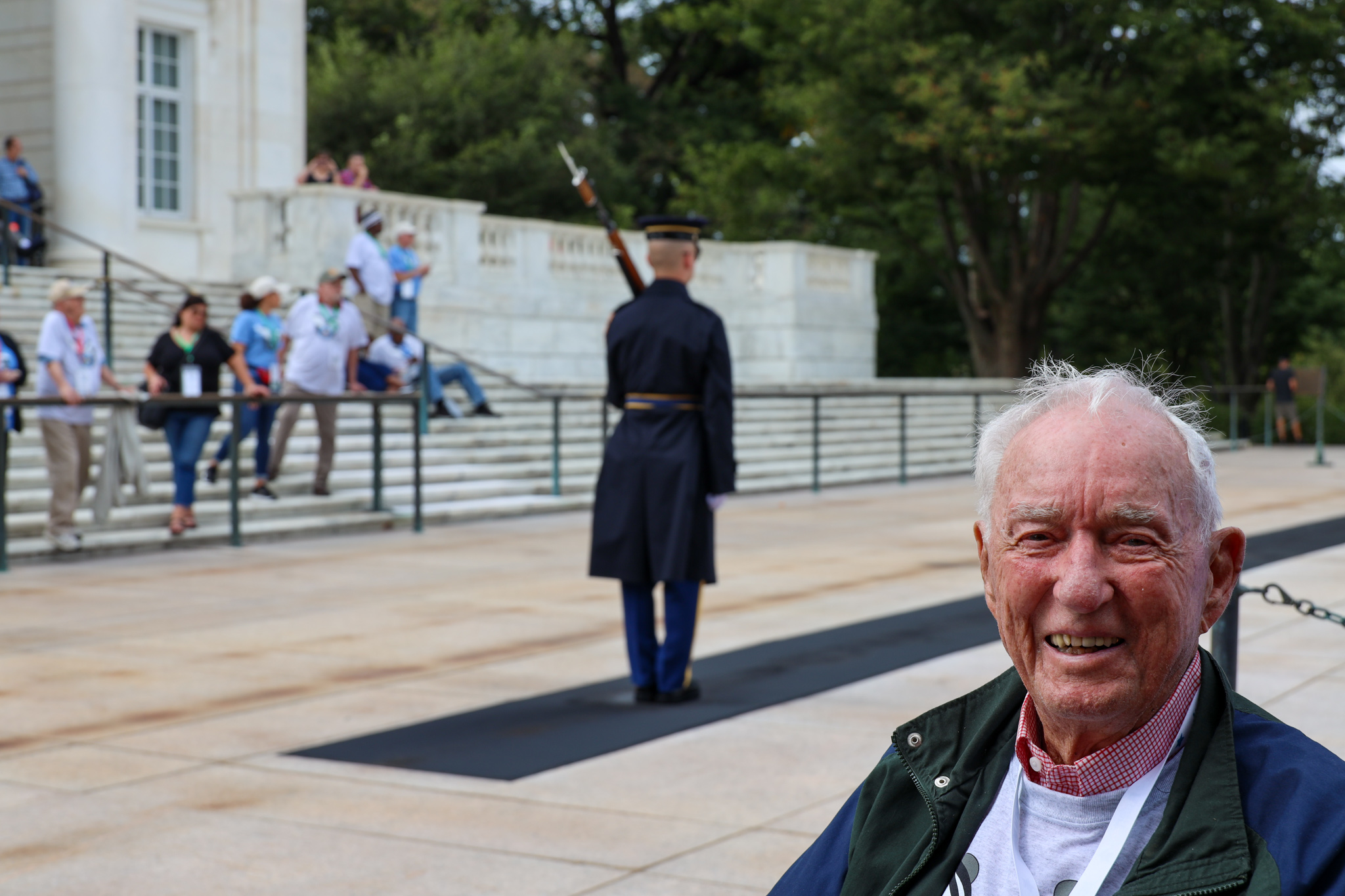 Lee Robertson at the Changing of the Guard at the Tomb of the Unknown Soldier in Arlington Cemetery, Va. (Courtesy of the Bluegrass Honor Flight)
Additionally, he coordinated and implemented various projects before retiring in 1985, only to return a few years later. He continues to work 100 days a year and is grateful for a flexible schedule.
"Since Hurricane Ian hit on September 28, 2022, I have probably spoken with at least 75 of our alumni in the storms' path, checking to see how they are doing and if we can help," Robertson said.
It's actions such as this that have garnered him the title of "Mr. Western," and he was honored with a bronze life-size statue in the Alumni Center to acknowledge his contributions and years of service to the university. He has received numerous awards during his tenure, including the naming of Robertson Ballroom on campus in his honor, the WKU Spirit Award, and the Distinguished Alumni Award.
He has recruited, educated, and coached thousands of students, inspiring them to achieve their dreams. He offers various tidbits of encouragement, including: "Live one day at a time. Enjoy every day. Keep your feet on the ground. Be strong. Love your neighbor. Count every day and make every day count."
Robertson credits his longevity to heredity, living a life in moderation, exercising, and playing sports.
"It's important to celebrate life. I'm still young at heart and blessed beyond measure," he said. "I'm 100 years old and counting. One hundred and one, here I come."
Follow
Paula L. Ratliff is a published author and freelance writer in Kentucky.