9:00 AM ET
SEATTLE — Tariq Woolen had just been drenched with a bucket full of Nickelodeon Slime when he burst into the Seahawks' locker room, giddily looking for a teammate to smear it on. He chased down fellow rookie Kenneth Walker III, wrapping him up with a bear hug that left the running back's arms covered in green goo.
The Seahawks haven't had much to celebrate of late, losing five of six games to drop from first place in the NFC West to one spot out of the wild-card standings. But on Sunday, they finally did. With Woolen's defense and the Walker-led running game shouldering the load, they kept their playoff hopes alive with a resounding 23-6 win over the New York Jets.
To secure the NFC's third wild-card spot and a playoff appearance that few would have expected after the Russell Wilson trade, the Seahawks have to beat the Los Angeles Rams at home next Sunday and get a Detroit Lions win or tie versus the Green Bay Packers .
With Detroit and Green Bay both winning Sunday, a Seahawks loss would have eliminated them from playoff contention. Instead, they put together their best performance in two months, if not the entire season. It included nearly 200 yards rushing, no turnovers, three takeaways and a whole lot of pressure on Jets quarterback Mike White.
Quarterback Geno Smith and the Seattle Seahawks kept their playoff hopes alive with a win over the New York Jets on Sunday. Steph Chambers/Getty Images
"We played a complete football game," said Geno Smith, who threw a pair of touchdown passes. "We played balanced football, passing the ball, running the ball, defense playing well, special teams playing well. That's our formula. That's what Coach Carroll talks about, just complete team ball. And I think that's what we got back to today. We've just got to carry that on moving forward."
Woolen had an easier time catching Walker in the locker room than the Jets' defense did on the opening play of the game, when he ripped off a 60-yard gain to set up Smith's touchdown pass to Colby Parkinson. It was his best run since he hurt his ankle on Dec. 4.
Between Walker playing through that injury and some poor performances from their offensive line, the Seahawks' run game hit a wall in November and December, which made life harder on Smith. Walker got going in the second half last week against the Kansas City Chiefs — after Carroll challenged the entire offense to run the ball better — and continued that momentum Sunday with 133 yards on 23 carries.
The second half of the Kansas City game now looks like it may have also been the turning point for Seattle's defense, which had regressed to its early-season form before holding Patrick Mahomes and the NFL's best offense to seven points over the final two quarters. They kept the Jets out of the end zone and suffocated White, who looked more overmatched than any quarterback has looked against Seattle this season. The Seahawks – who went their past three games without a takeaway — picked White off twice and sacked him four times, forcing a fumble that they recovered on one of them.
"I felt like tonight was a great example of rush and coverage working together, stopping the run, making them throw the ball and letting the big guys eat up front and the cover guys in the back cover," said linebacker Cody Barton. "I thought we played a hell of a game."
Barton took over as the defensive signal caller when Jordyn Brooks went down in the second quarter. Carroll had no update postgame other than to say Brooks was getting tests done on his knee that evening. A source told ESPN's Jeremy Fowler that the team fears Brooks suffered a significant injury. The momentum they've built on defense would be hard to sustain without the NFL's third-leading tackler, particularly given how thin their depth is behind him.
"I'll be praying for him and hoping for some good news," Barton said.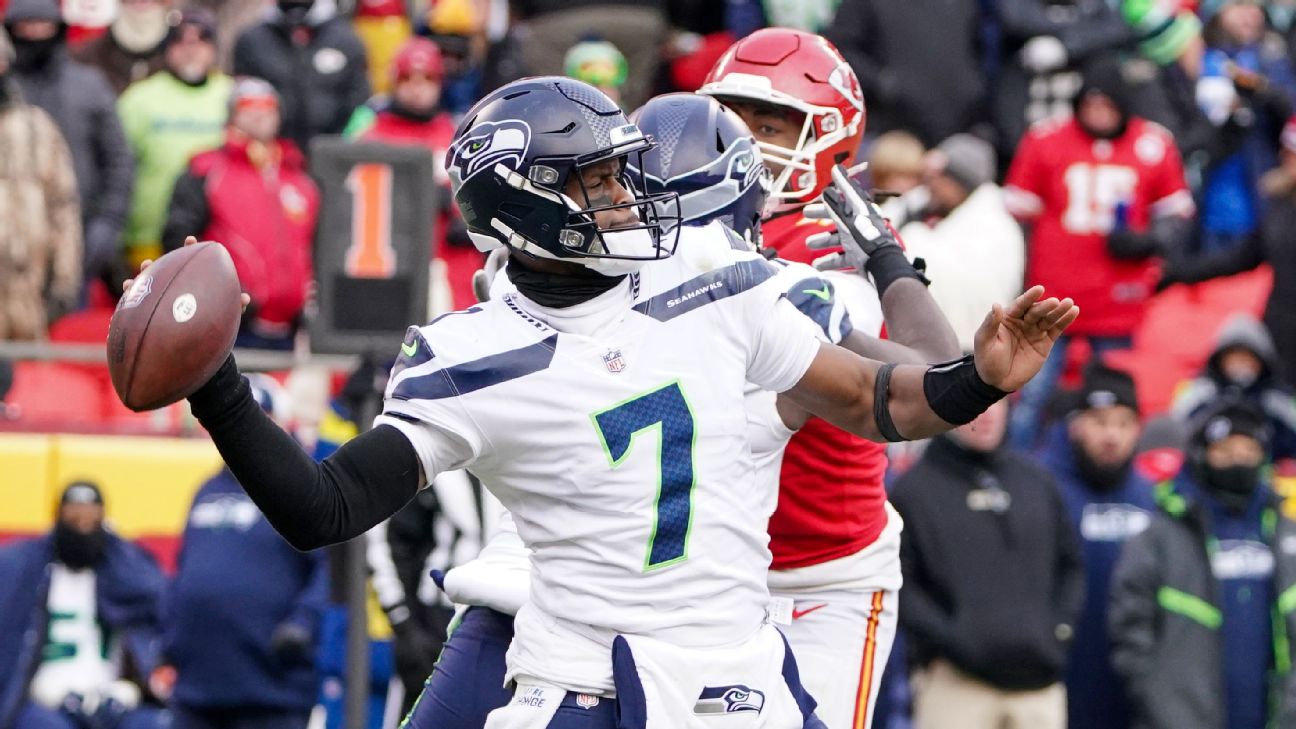 • Which players have bonuses on the line?
• Dolphins put trust in Bridgewater
• Darnold's patience pays off
• Hockenson trades an all-timer
• Playoff picture: Week 17 clinching scenarios
Smith (18 of 29 for 183 yards) didn't have the most prolific performance of his Pro Bowl season on Sunday, but with everything else clicking, the Seahawks needed him to be more safe than spectacular. He'd thrown five interceptions over the previous five games, at one point admitting that he was playing too aggressively and saying he needed to get back to taking what defenses were giving him.
That meant leaning more on his tight ends, who got plenty of open looks with the Jets taking away Tyler Lockett and DK Metcalf. The trio of Parkinson, Noah Fant and Tyler Mabry combined to catch eight of 11 targets for 83 yards and both of Smith's touchdown passes.
Smith downplayed the significance of beating the team that drafted him.
"Honestly, it doesn't mean anything outside of the fact that we gave ourselves another chance to go to the playoffs," said Smith, who earned a $1 million incentive for topping 4,000 passing yards on the season. "I'm actually grateful for being drafted to the NFL by the Jets. Although things weren't perfect there, there were some good times and there are some people still there I hold dear to my heart. I have a lot of good relationships in New York. So it was just another game for me."
The Seahawks could have skated into the playoffs had they not lost winnable games at home to the Las Vegas Raiders and Carolina Panthers. As a result, they're in the precarious position of needing to win their finale and get some help from Detroit. The Lions are 4½-point underdogs and have gone just 3-19 at Lambeau Field since 2000. That result won't matter unless the Seahawks take care of business against the Rams as 6½-point favorites.
"It looks like we're making a little of a move," Carroll said. "We definitely played better in some areas last week and then we came back and did it again this week. We've got a big finish coming up."