Bend has been synonymous with beer for decades, thanks to the proliferation of breweries since the first one, Deschutes Brewery, opened its doors in 1988. These days, the beer scene includes an official Bend Ale Trail and several annual festivals celebrating brews. But in case you hadn't noticed, the beer town, with its 30+ breweries, is also an emerging wine town. Move over IPA and make room for cabernet, chardonnay and pinot noir.
Since 2016, half a dozen wineries have opened tasting rooms in Bend, and that's not counting the numerous wine bars that have also popped up on the scene.
click to enlarge
Domaine Serene Wine Lounge
Grace and Ken Evenstad had a longtime dream of growing and producing world-class pinot noir. They made their way from Minnesota to the Dundee Hills in Oregon's Willamette Valley in 1989, purchasing 42 hilltop acres and establishing Domaine Serene. They've been producing award-winning pinot noirs and chardonnays ever since. In 2017, the 2013 Jerusalem Hill Pinot Noir was awarded the Top American Pinot Noir at the Decanter World Wine Awards.
Along with Domaine Serene's six Oregon vineyard estates, the state-of-the-art pinot noir and white wine wineries, in 2015 the Evenstads purchased Château de la Crée, a Burgundy wine estate in the Côte d'Or of France.
The first Domaine Serene wine lounge opened in 2018 in Portland. A second lounge opened at the end of 2019 in Lake Oswego and the Bend lounge opened in December 2021 at the corner of Bond Street and Minnesota Avenue downtown.
click to enlarge
Domaine Serene Wine Lounge
Domaine Serene Wine Lounge is downtown in the historic Spheir Building at the corner of Bond and Minnesota.
President/CEO Ryan Harris explains the intent behind the wine lounge: "We want some of the greatest wines in the world to be available to all people." Several flights are always available at the lounge including the Estate Flight featuring a selection of its flagship, award-winning wines, and the Premier Flight featuring exclusive wines from Oregon and Burgundy as well as wines by the glass.
The food menu at Domaine Serene is fairly extensive but as Harris explains, "We don't make or serve anything that isn't going to pair wonderfully with the wine." The goal of the food served is to "elevate the wine" he says. Current menu offerings include caviar, carpaccio, an almond crusted steelhead and a Maple Leaf Duck Breast.
Harris also shares a story about how Domaine Serene founder Ken Evenstad, who died in 2020, used to say, "Our main goal is to make great wine, that's the art we create. The frame that you put around that art makes it a more pleasant experience, and the frame is hospitality." That hospitality is front and center at the Bend lounge, welcoming with its warm wood and brick elements and lots of natural light. There are different rooms and areas on the main level, all offering slightly different, inviting vibes. Downstairs in the renovated basement area there's a dining room available for private events as well as a pop-up cocktail lounge. Upstairs is a loft available to members only. Domaine Serene wine club membership gives access to the world-class winery estate, discounts on wine flights and glasses of wine and a rewards program.
Domaine Serene Wine Lounge
909 NW Bond St., Bend
541-550-3795
Open Wed-Mon 3pm-9pm
click to enlarge
Courtesy Stoller Wine
Stoller Wine Bar in the Box Factory offers two flights as well as wine-based cocktails.
Stoller Wine Bar
Bill Stoller's father and uncle established their Yamhill County farm in 1943. Over five decades it became one of Oregon's largest turkey farms with nearly 700,000 free-range turkeys at its peak. Stoller purchased the family property in 1993 with the dream of cultivating a world-class vineyard. In 1995 he planted 10 aces each of Pinot Noir and Chardonnay on the former family farm. The Stoller Family Estate is now the largest contiguous vineyard in Oregon's Dundee Hills, spanning 400 acres and is most renowned for pinot noir and chardonnay.
In February 2021, Stoller officially opened a tasting room and wine bar in the Box Factory. Located between River Pig Saloon and Valentine's Deli, the Stoller tasting room features a large open-air room and outside patio.
Manager Jackie Bulthuis says being in the Box Factory is ideal.
"It's awesome to be close to other wineries so you can do your own tasting tour if you want," she explains. Bledsoe Family Winery and Bend Wine Bar are also in the Box Factory while Evoke Winery and Va Piano are nearby in the Old Mill District and Domaine Serene is just blocks away in downtown Bend.
Bulthuis describes the Stoller Wine Bar as "laidback, casual and family friendly," and describes the Stoller wines as "approachable." The wine bar offers two different flights at any given time, as well as wines by the glass or bottle, wine-based cocktails and food.
The Stoller wine club memberships offer access to the estate in Dayton along with other benefits including club exclusive wines, special pricing and event invitations.
Bulthuis says many of Stoller's Bend customers are wine enthusiasts and are happy to see more wine tasting opportunities in Central Oregon.
Stoller Wine Bar
555 NW Arizona Ave., Ste. 30, Bend, OR
503-864-3404
Open Mon-Thu 1pm – 9pm, Fri-Sat Noon-9pm, Sun Noon-7pm
stollerfamilyestate.com
click to enlarge
Mark Proden
Bend Wine Bar & Winery Tasting Room pours wines from The Winery at Manzanita.
Bend Wine Bar & Winery Tasting Room
It could be easy to miss the Bend Wine Bar & Winery Tasting Room, tucked on the east side of the Box Factory. Winemaker/Owner Mark Proden founded his winery in 2008 after 11 years in the Air Force. The Winery at Manzanita is the home of his wine production. The accent is on handcrafted, small ferments, local grapes and coastal fermentation. Each wine comes from a single vineyard and is 100% of that varietal unless it's a specified blend.
Proden added Black Dog Vineyard in Carlton in the summer of 2021 and both the Manzanita NW in Portland's Slabtown and the wine bar in Bend in 2022. In Bend, they're pouring wine from the Manzanita winery along with other Oregon and Washington wines. The bar offers several different flights consisting of three wines each including an Oregon Pinot Flight with three Oregon Pinots and reds and whites by the glass. The menu also includes house made sangria, a fresh squeezed OJ mimosa and nibbles such as Duck & Pheasant Pate and Gourmet S'mores.
Visitors are sure to notice the black lab on the signs and on the wine bottle labels. Pinot is the dog's name and he's been right beside Proden since 2012 when Proden opened The Portland Wine Bar and Winery Tasting Room. All of the properties welcome families, wine aficionados and their dogs.

Bend Wine Bar & Winery Tasting Room
550 SW Industrial Way, Ste. 194, Bend
Mon-Fri at 2pm, Sat-Sun at Noon
click to enlarge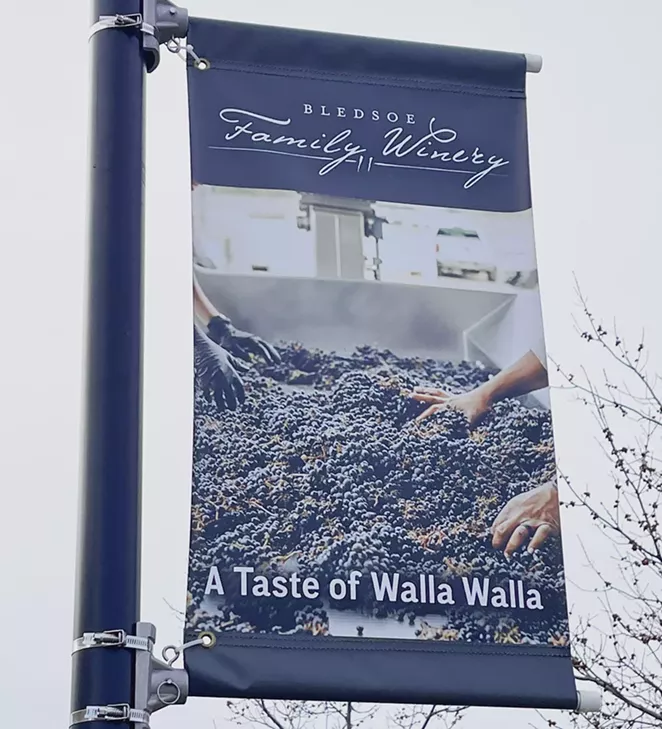 Donna Britt
Bledsoe Family Winery Wine Lounge is one of two Walla Walla wineries with a tasting room in Bend.
Bledsoe Family Wine Lounge
Just down the way from Stoller Wine Bar is the Bledsoe Family Wine Lounge, the second vintners from the Walla Walla Valley to operate a tasting room in Bend, after Va Piano.
After a dream career as an NFL quarterback, including a trip to Super Bowl XXXI with the New England Patriots, Drew Bledsoe was drawn back home to his roots in Walla Walla and together with his wife Maura and winemaker Josh McDaniels started building the Bledsoe Wine Estates.
The Bledsoes moved to Bend after Drew's retirement from football, so opening a tasting room here was another dream coming true. As the local wine lounge opened in August 2019 Drew stated, "We are thrilled to be able to share our passion for wine with a community that has created so many wonderful opportunities and memories for our family."
The Bledsoe wine lounge in the Box Factory has indoor and outdoor seating with fire pits. One of the interior walls sports a large barn mural, a tip of the hat to the Bledsoe family's Flying B Ranch in Ellensburg, Washington. Drew's grandfather, Stuart Beldsoe, was a highly decorated Naval Pilot in WWII and at the end of the war, moved his young family to Central Washington where they homesteaded the Flying B Ranch to raise cattle.
The tasting rotation at the Bledsoe Family Wine Lounge spans the Elizabeth Chardonnay, Healy Rosé, Stolen Horse Syrah, Flying B Cabernet Sauvignon and the Bledsoe Family Red Wine. The menu also includes snacks and nibbles.
The Bledsoe Inner Circle membership includes seasonal releases, access to exclusive wines and other tasting opportunities and perks.
Bledsoe Family Winery Wine Lounge
550 SW Industrial Way, Ste. 198, Bend
541-797-6502
Open Wed-Sat Noon-7pm, Sun 1pm-6pm
click to enlarge
Donna Britt
Va Piano Vineyards Tasting Room in the Old Mill District has views of the Deschutes River and the Cascades.
Va Piano Vineyards Tasting Room
Great wine is an invitation to slow down and relax, according to winemaker Justin Wylie. He named his winery, Va Piano, after the old Italian proverb, "Chi Va Piano Va Sano e Va Lontano" which means, "he who goes slowly goes safely and goes far." Wylie's family has lived in Walla Walla, Washington, for four generations and he started making wine in his garage. Va Piano was born in the fall of 2003 when he began his first commercial crush.
Based in Walla Walla, the Va Piano Vineyards winery and tasting room share a custom-built Tuscan style 7,500-square-foot facility. Its wines include cabernet sauvignon, syrah, merlot, cabernet franc and other red varietals.
Bend was a favorite vacation destination for the Wylie family for years, so it was only natural to open a tasting room in Beer Town.
"Bend's popularity as both a place to live and a destination for visitors made it the perfect place for us to share our wines with a larger audience," he commented in a statement at the time. With the opening of the Va Piano tasting room in the Old Mill District in 2016, his goal was to make wine approachable and fun.
Anyone can walk into the Va Piano tasting room, with a view of the Deschutes River and Cascades mountains, and enjoy a flight, a glass or a bottle of wine. A recent tasting flight included a Rose of Cabernet Franc, a Walla Walla Valley Syrah, a cabernet sauvignon and a merlot. They also serve light snacks. A Va Piano membership allows first dibs on certain new releases, includes 15% off all wines, complimentary tours and tastings and other exclusive perks.
Va Piano Vineyards Tasting Room
425 SW Powerhouse Drive, Ste. 301, Bend
541-797-6363
Open daily Noon-8pm (til 6pm Sundays)
vapianovineyards.com
Evoke Winery Tasting Room
Among the oldest tasting rooms in Bend is Evoke in the Old Mill.
"Feel-good wines for whatever the times," — that's just one of Evoke Winery's catchy slogans. With suggestive and thought-provoking labels, Evoke is a fitting name for the Hood River-based winery that first opened in 2005 with the intention of making wines to evoke happiness and feel good moments.
Evoke is a small Oregon wine producer handcrafting each wine with fruit harvested by its growing partners from renowned vineyards in the Pacific Northwest. The intent is to acquire the best grapes from the best regions each year and produce the truest expression of every wine varietal they offer. Evoke's varietals include barbera, cabernet sauvignon, malbec and sangiovese, as well as chardonnay, muscat and pinot blanc, among others.
Owned by Peter Steinfeld (also the CEO) and his wife Kristi, Evoke has tasting rooms in Hood River, Seaside, Vancouver, Washington, (opening later this year) and Bend. The Bend tasting room in the Old Mill District offers light bites such as cheese, salami, crackers, olives and almonds, along with wine flights as well as wine by the glass and bottles to-go.
Typical flights include a red flight, a white flight, a sweet flight and a Black Label flight with selections rotating seasonally. The tasting fee is waived with the purchase of two or more bottles. Club members get free flights as well as other deals and perks.
Evoke Winery Tasting Room
330 SW Powerhouse Drive, #110, Bend
541-386-3700
Open daily Noon – 8pm (till 6pm Sundays)
At the Table with Bledsoe Family Wines: A chef's dinner at the Riverhouse
By Nicole Vulcan
Visiting a tasting room — so abundant in Bend these days — is just one way to experience a company's wines. Another option: attending a wine dinner, as I recently did with Bledsoe Family Wines at the Riverhouse on the Deschutes in Bend. Drew Bledsoe — the celebrated quarterback who made his home in Bend after a storied career in the NFL — and wife Maura hosted the event this month, pairing their signature wines with several courses prepared by Riverhouse chef Travis Taylor, formerly of Rainshadow Organics and Sunriver Resort. 
click to enlarge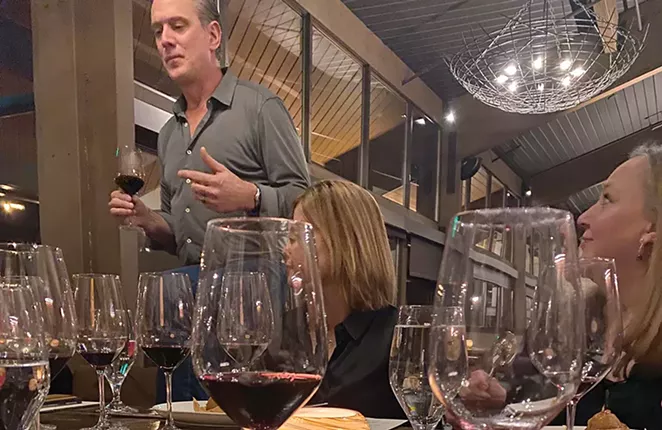 Nicole Vulcan
Drew Bledsoe of Bledsoe Family Wines at a recent tasting dinner at Riverhouse on the Deschutes.
Ahead of dinner we sipped a fresh, crisp Healy Rosé, named for Maura Bledsoe's Irish grandfather. A first dinner course paired a winter run salmon crudo with Bledsoe's 2021 Elizabeth Chardonnay, a citrus-forward wine named after Bledsoe's grandmother. The second course paired braised Anderson Ranch lamb, topped with Dungeness crab, a foie gras broth and a beet root relish and sweet potatoes with the 2020 Cabernet Sauvignon. And a third course featured a truffle risotto with a roasted elk tenderloin, encircled with delightful toybox tomatoes soaked in a basil simple syrup, all paired with the first wine grape planted at the Bledsoe vineyard, its Doubleback Cabernet Sauvignon. After his football career, Bledsoe "doubled back" to the Walla Walla valley, he explained, coming back home to then begin a foray into wine. After those three food courses, those who had any room left at all delighted in a poached pear filled with hot dark chocolate, sitting on a bed of phyllo dough. Dessert came with a full-bodied 2020 Stolen Horse Syrah. 
Sipping wines at any number of Bend's tasting rooms is a fun experience, but it's hard to compare to a three-course meal, crafted by a chef, and with the vineyard's owners regaling you with the back stories.