First responders have rescued a man hurt hours earlier in an industrial accident involving a shredder at an Everett, Massachusetts, business.Sky 5 showed dozens of firefighters and first responders around what appeared to be a large scrap metal shredder machine at a recycling business called Scrap -It Inc. at 431 Second Street. An employee who was working near the scrap shredder reportedly became caught in the machine around 3:30 pm Thursday. First responders had spent hours working to free the man from the machine. Sources tell NewsCenter 5 the worker got one of his limbs caught in the machine, possibly a leg. Video from the scene showed a large group of firefighters and EMTs, including Boston Fire's technical rescue units and a medical doctor suited up in a protective gown and surgical gear, all working to free the worker from the machine.Reporters at the scene said they could hear the man interacting with paramedics and first responders.First responders reassured the worker and worked for hours to free him, joined by Boston Fire's Technical Rescue Unit, a team that specializes in extricating and treating victims trapped in complex and confined spaces. He was rescued and transported by ambulance around 6:30 pm"The male patient was removed from the equipment after several hours with the assistance of additional medical personnel that were brought in and the man was transported to an area hospital," Everett Mayor Carlo DeMari a said. "Team members from OSHA also responded to the scene to commence the investigation into the incident."
EVERETT, Mass. —
First responders have rescued a man hurt hours earlier in an industrial accident involving a shredder at an Everett, Massachusetts, business.
Sky 5 showed dozens of firefighters and first responders around what appeared to be a large scrap metal shredder machine at a recycling business called Scrap-It Inc. at 431 Second Street.
An employee who was working near the scrap shredder reportedly became caught in the machine around 3:30 pm Thursday. First responders had spent hours working to free the man from the machine.
Sources tell NewsCenter 5 the worker got one of his limbs caught in the machine, possibly a leg.
Video from the scene showed a large group of firefighters and EMTs, including Boston Fire's technical rescue units and a medical doctor suited up in a protective gown and surgical gear, all working to free the worker from the machine.
Reporters at the scene said they could hear the man interacting with paramedics and first responders.
First responders reassured the worker and worked for hours to free him, joined by Boston Fire's Technical Rescue Unit, a team that specializes in extricating and treating victims trapped in complex and confined spaces.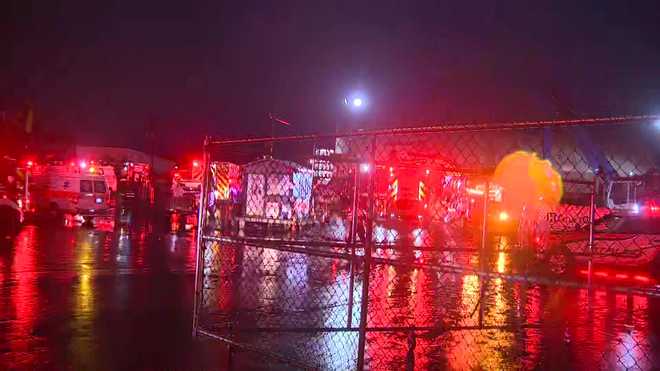 He was rescued and transported by ambulance around 6:30 pm
"The male patient was removed from the equipment after several hours with the assistance of additional medical personnel that were brought in and the man was transported to an area hospital," Everett Mayor Carlo DeMaria said. "Team members from OSHA also responded to the scene to commence the investigation into the incident."