Smith Family Funeral Homes has acquired the two Davis-Smith Funeral Home locations in Hot Springs and Glenwood, bringing together the legacies of two Smith families who, while not related, share a common commitment to community service.
"I see it as the coming together of the two Smith families," said Jeff Smith, who owns the Smith Family Funeral Homes with his wife Leslie. "There were a lot of reasons I was looking forward to it, but the main one was that we all got the chance to work together."
The deal was closed on December 29th. However, Tony Smith, his wife LaDonna, and father Everett "Paul" Smith, the original owners, are all still working in the business.
"You haven't gone to Cancun or Europe in a month. Tony and LaDonna and Everett are still serving families and I think it's really the best of both worlds," he said.
Video won't play? Click here https://www.youtube.com/embed/OVF-uCcQYzY
In 1963, Everett Smith was hired by Marlin and Louise Davis, who owned the Davis Funeral Home in Glenwood, and the family moved there, said Tony Smith, then 8. He began working there in 1983, and on April 15, 1989, Davis retired and sold the business to the Smiths. LaDonna Smith came on board all day that same day.
They changed the name to Davis-Smith Funeral Home and kept the Davis name "because it was always a special part of us," said Everett Smith. Jeff Smith noted that they will now use the aptly named Smith Family nickname for the former Davis-Smith locations because the Davis name is "so distant."
"We're very fortunate that we've grown every year since our inception, and we grew when Jeff came with us," said Everett Smith, noting that the secret to success is taking care of people. They like you, they like you. Treat them well and most will be good to you. "
"It's not a five day a week job, it's a seven days a week," said Tony Smith.
Davis-Smith opened its Hot Springs location at 2205 Airport Road on Aug. 18, 2001, he said. "We'd talked for several years about this part of Hot Springs in need of a funeral home," and then he "was on a call around midnight and drove past that property and saw a" For Sale "sign saying Dad and Dad said it The rest somehow fit. "
Jeff Smith said his grandfather, Clifford Smith, founded the Smith Family Funeral Home in North Little Rock in 1955 and "the first family he served when the person died went to Everett and picked the deceased off for my grandfather to have known for generations . "
Tony Smith said when he and his wife were at the point where they were "ready to make the switch with our age and everything" they turned to Jeff Smith for advice.
"Not to see if he wanted to buy it, we just wanted help and we knew he really knew his way around things like this. The more we talked, the more we decided we had to do this," he said.
"He told us what we had to do to get started and then, maybe a month later, he said to me, 'I just want to tell you one thing, I want to be there,'" LaDonna Smith said of the merger Spring 2021.
"Doing this under the radar wasn't easy," she said.
"We can help them relieve some of the headaches associated with owning, but the families will still give them the love the Smiths have always given them," said Jeff Smith. "So it really is the two Smith families that are coming together."
"We haven't changed much at the moment," said Tony Smith. "That gives us the freedom to change without so much responsibility for everything. Now I can concentrate on what I like to do. "
"You don't want to retire," said Jeff Smith. "They just want to switch and take on a different role in the business. This is a relationship business and the continuation of these established relationships means so much to and care for families. "
Everett Smith, who will turn 91 next month, "still lives at the funeral home (in Glenwood) in a backyard apartment and is still very active in the business," said Jeff Smith. "That was the prerequisite for being able to work as long as he wants and can. Nobody leaves."
Jeff Smith said they could hire a new person or two to give Tony and Ladonna Smith "more freedom to travel, etc. Give them the flexibility and freedom they deserve."
Jeff Smith noted that his grandfather Clifford had never worked at the funeral home for "one day in his life" when he established their first location after a friend suggested that North Little Rock needed a funeral home, but that was the only place which his father, John, had ever worked on. He said they initially lived and worked above the funeral home "when I was in school and growing up".
When he finished school, Jeff Smith said his father encouraged him to "work elsewhere, try other things, and I did," but returned and started working at the funeral home again in 2006.
He said they never had any plans to expand, but his parents and grandparents "were doing a great job and reputable, getting calls from people wanting us to buy their business. That's how we grew in any case. In any case, the owner was really ready to retire and turned to us. "
In 2008 they bought a funeral home in Beebe. In 2010, John Smith retired and Jeff and Leslie Smith bought the business from him. In 2012 they bought a funeral home in Benton that was "a little different. It was one that had failed, that we bought and had to start over". In 2015 they bought a funeral home in Sherwood and one in Arkadelphia the next year.
In 2020, they bought a Little Rock location that was the largest funeral home in town, while their North Little Rock location holds the state's largest funeral home award and "serves more families from that one location than any other." other funeral directors in Arkansas, "Jeff Smith said, noting that they average" over 500 funerals a year non-stop. So we have the biggest funeral parlors on both sides of the river. "
With the acquisition of Davis-Smith Funeral Homes, they now have eight locations in central Arkansas, a role that has always been close to Jeff Smith and his team's hearts.
"It's not just a job for us – it's a calling," he said. "When I think back to what my grandfather started over 65 years ago when he opened our first funeral home – the sacrifices he made and his belief in his work – I am always humble. I wish he could be here to see how far we've come. But beyond that, I wish he could see the passion with which we serve our families. We are honored to be part of the Hot Springs and Glenwood communities and look forward to meeting new neighbors and friends in the Smith family Funeral Home – locations in Hot Springs and Glenwood. "
Smith Family Funeral Homes has acquired the two Davis-Smith Funeral Home locations in Hot Springs and Glenwood and has merged the estates of two Smith families. From left are Jeff Smith and Leslie Smith, co-owners of Smith Family Funeral Homes, Everett "Paul" Smith, LaDonna Smith and Tony Smith, owners of Davis-Smith Funeral Home. – Submitted photo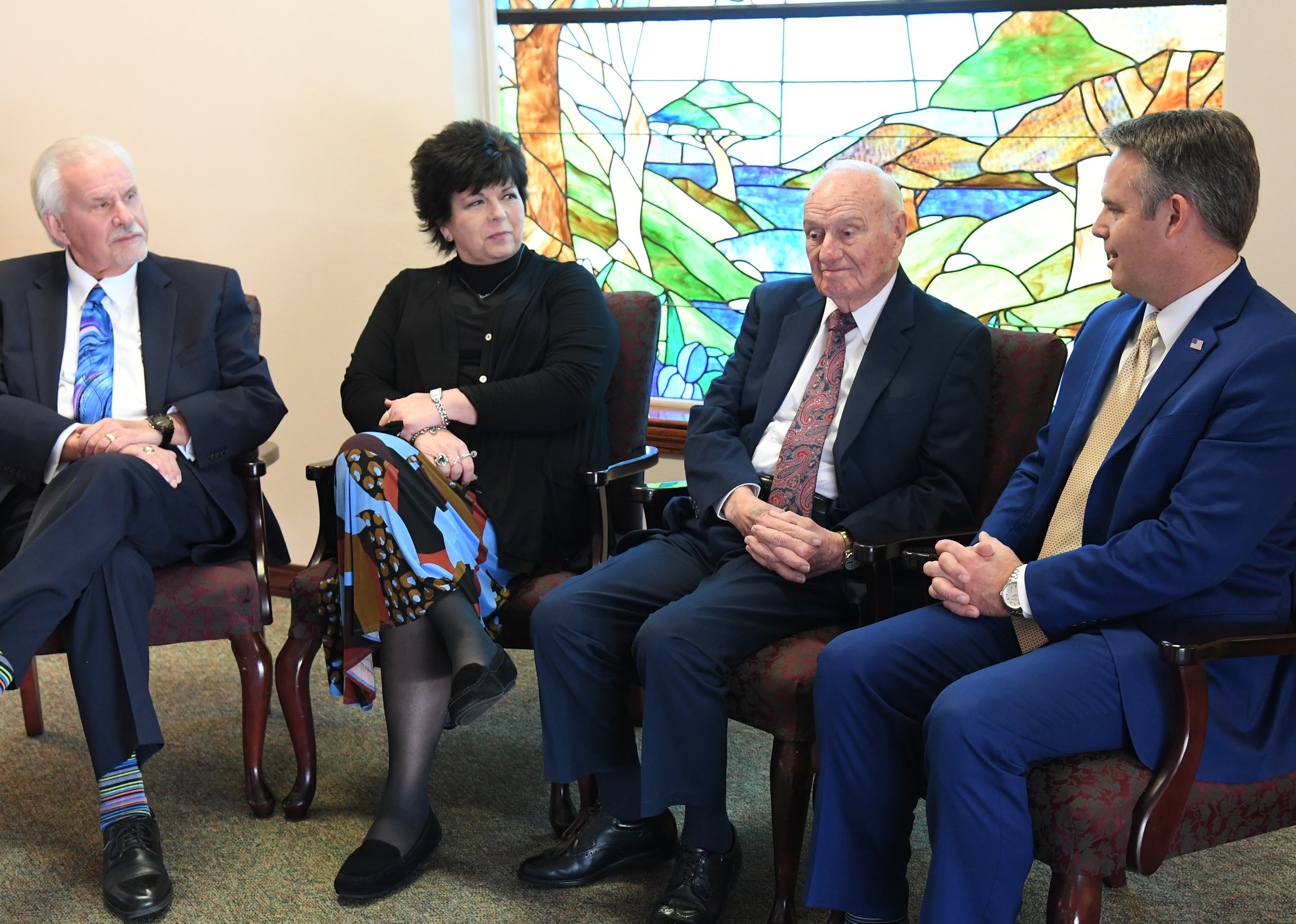 From left Tony, LaDonna and Everett "Paul" Smith, owners of Davis-Smith Funeral Homes, and Jeff Smith, co-owner of Smith Family Funeral Homes, discuss Davis-Smith's change of ownership on Wednesday. – Photo by Tanner Newton from The Sentinel Record